Order Suspending In-Court Proceedings
The attached Tennessee Supreme Court order suspends all in-person juvenile court proceedings except for emergency circumstances. Our court is working diligently to plan how to the handle the uncertainties of the next few weeks as well as to address any emergencies that may arise.
Toward that end, effective at the close of business Friday, March 13, 2020, the following will occur (subject to further changes as contingencies arise):
1) The court will continue to operate detention and preliminary hearing dockets. The preliminary hearing docket will occur each Monday through Friday at 9:00 a.m. The detention docket will occur each Monday-Friday at 1:00 p.m. All emergency matters shall be consolidated onto those dockets.
2) The child support contempt dockets in which a respondent is incarcerated shall continue to occur each Tuesday at 8:30 a.m. In addition, any motions for release filed by incarcerated respondents relating to child support shall be consolidated onto those Tuesday dockets.
3) Any delinquency case that involves a juvenile currently in detention remains on as presently scheduled. Trials for those juveniles in detention will occur as scheduled. Any youths currently in detention and on for settlement will be handled by their counsel and the assistant DA in conjunction with the individual magistrate assigned to the case.
4) The clerk's office will remain open for the filing of petitions. They will work with the court to determine when to schedule non-emergency petitions.
5) All other trials, appearances, settlement conferences and reviews will be continued. The court will notify counsel as to when those case will be reset for status.
* UPDATE – PLEASE NOTE: *
As part of Juvenile Court's coronavirus prevention plan approved by the TN Supreme Court, the Juvenile Justice Center, including all courtrooms and offices, will close once all dockets have been heard for the day to prevent further spread of coronavirus throughout the JJC. On most days this will occur between 4-4:30pm, however on days where dockets are lighter closing could occur as early as 3:15pm. While Coronavirus procedures are in place, anyone contacting the Juvenile Court Clerk's Office, for any reason, are encouraged to make contact before 3:00pm to avoid any delay in communicating with our office. Sorry for any inconvenience this may cause, but we are trying to be as safe as possible during this pandemic.
Additional Information:
Juvenile Court has not issued a standing order related to parenting plans. All of the provisions in the parenting plans remain in place. If anyone needs to file a motion to review visitation in light of the current situation in a particular case, please feel free to do so. If the parenting plan in question arose out of a Neglect/Dependency case, the motion to review should be set on a 9:00 a.m. Preliminary Hearing docket. The 9:00 a.m. Preliminary Hearing dockets are held daily. If the parenting plan arose out of a Parentage case, it should be set on an 8:30 a.m. Parentage docket. The 8:30 a.m. Parentage dockets are only held on Tuesdays. The motion should be set approximately a week out from the date of filing to allow time for the parties to be served with the court date. The motion will be heard by conference call, so please include the telephone numbers of all attorneys and parties on the motion.
As to the availability of video conferencing at Juvenile Court, we are currently working to set up WebEx services to allow for video conferencing. For now only phone conferencing is available.
We also encourage parents to contact our Parental Assistance Court (PAC) team members to discuss parenting plan issues. All of our PAC team members are certified Rule 31 mediators and are skilled at helping parents navigate difficulties related to co-parenting. They can reach a PAC team member by calling 615-862-8000 and asking for a PAC or just explaining that they need help with a parenting plan.
---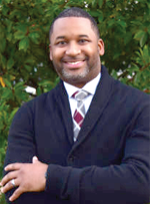 Lonnell Matthews – Juvenile Court Clerk
It is the mission of the Juvenile Court Clerk's Office to provide those persons utilizing the services of the Juvenile Justice System with the highest level of efficient and courteous service, in a manner which is fiscally responsible, to all citizens of Metropolitan Nashville.
---
Services Provided
The Juvenile Court Clerk is a constitutional officer and is elected by the people for a term of four (4) years.
The duties and responsibilities include processing all legal documents filed in Juvenile Court, maintaining docket and minute books, acting as the keeper of the records, preparing hearing dockets, providing deputy clerks for all court hearings, maintaining financial records, collecting court costs, fines, child support, bonds and restitution, preparing Orders for the Juvenile Court, administering trust funds for minors (TCA 29-13-301 Part 3) and any other trust accounts as Ordered by the Court.